So here's the deal.
I was feeling a little whiny and yucky and just sort of down this morning. I went to
Ree's
blog 'cause she always cheers me up.
Then I went to
Willowtree's
blog for the same reason. WT had a trivia test with it's results posted. I figured what the heck. So I took it. Now I know that I am either a genius or that my head is full of crapola that no one in the real world uses.

Either way, this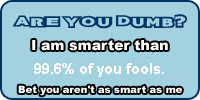 Am
-I-Dumb.com - Are you dumb?
is a terrific ego booster, so thanks, WT.